And I even finished it one day ahead of rotation :)
I changed a lot of stuff in this piece. In fact, it was the first time I looked at a design and decided that things needed to be changed for me to enjoy stitching it. I replaced the animals with the Hebrew alphabet. I changed the color scheme in the corners and on the bottom (the tacked herringbone). I took out lazy daisy stitches where I didn't want them.
And it's done.
Now it can go away until I have to frame it for someone for Christmas.
On to Garnet!!!!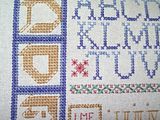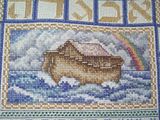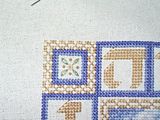 Teresa Wentzler, Noah's Ark
Started: February, 2009
Finished: August 30, 2010